Why am I telling you this?
If this is so bad, why is it in the guide?
This is why.
The truth is that 'buy twitter followers' is still the #1 search for growth.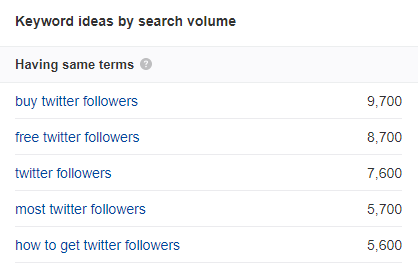 So feel I have a duty to tell you that...
...twitter will remove every fake follower you buy.
It doesn't work.
But the problem is bigger. You may get tricked into buying followers.
Take a look.
If you search for 'free twitter followers' you will get this:
The very first result is a website selling fake twitter followers.
The rest are spam follower sites.
(Thanks google)
* don't do this *
Buying twitter followers (fake bots)
How do you spot a site selling fake followers?
They tell you two things... a quantity and a price.
Any site offering to sell you a certain number of followers for a fixed price is fake.
No exceptions.
They will tell you that the followers are real... they are not
They will tell you that the followers are high quality... they are not
They will offer you a guarantee to replace lost followers... they can't
And they won't need your twitter password...
...because bots don't need it to follow you.
You will lose money.
Twitter will remove every fake follower.
* don't do this *
Buying twitter followers (with password)
Some websites will say that they can add followers if you give them your password.
(Please don't)
They will use follow-baiting and mass churning to lure followers.
(They follow 100 people, wait for some to follow back, then unfollow them all)
Twitter is wise to this.
Your twitter account will be suspended.
Once they have your password they may also DM spam your followers with malware links.
* don't do this *
Follow-baiting and churning
This is one of the oldest tricks in the book, and twitter will now suspend you if you do it.
So don't do it.
It used to work like this...
You followed 1000 people a day, and in 5 day's time you unfollowed them all.
In that time some of them would have followed you back.
This guy followed and unfollowed around 20m people.

Now he's suspended. Time well spent...
* don't do this *
Buying followers on Fiverr
Five bucks, what could possibly go wrong...?
These services are the same as above. They are either adding fake followers or follow-baiting.
They are not doing organic twitter promotion.
Stay clear.